Our Regular Opening Hours:
Monday – Friday 10:00 am to 5:00 pm 
Saturday 11:00 am to 3:00 pm
Videos Updated – New June 11, 2020 'Furniture, Decor and More' Feature Videos  Click Here
K-W's ONLY 100% FURNITURE AND DÉCOR CONSIGNMENT STORE!
Does every piece of furniture start to look the same as you go from store to store? Do they all have shockingly high prices and questionable quality? Décor items that are simply ho-hum? Have your searches included good quality used furniture or high-end gently used furniture and when you find it, it's anything but good quality or gently used furniture? You're not alone!
"Welcome to our site! This is Margery Smith and Rita Wagner from "Bits & Pieces – Furniture & Décor Consignment. For over 40 years, we have been in the furniture business and it is upsetting to us when we hear people are getting ripped off! Our passion has been furniture refinishing and restoration, but we realized over time the real need for a high quality consignment store where people like you could finally find gently used, high-end quality furniture and home décor!"
Quality at Reasonable Prices
Bits & Pieces Furniture & Décor specializes in the resale of gently used high quality furniture and décor items to accessorize the look you are trying to achieve! Whether you are looking for something special for your home, or you are furnishing that cottage by the lake, we have the finest pieces and most affordable way to help you achieve success!
As you enter the Bits & Pieces Furniture & Décor location on Gage Street, in Kitchener, you will be astonished at the high end approach taken to merchandise the items on the floor! Bits and Pieces only accept the best quality in used furniture and décor for consignment. With a strict criteria policy in place for the make, model and condition of items, you will find yourself gazing upon some very high end furniture in a wide variety of styles and designs. There is literally, something for everyone!!
FAIR PRICING

Pricing is based on the fact that we sell used items. The basis for our pricing is what something similar would sell for new.
RISK-FREE BUYING!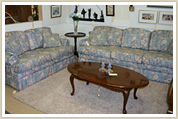 Not sure of colour, size or style and need to know before you buy? Use our free, no-obligation 24-hour trial option!
HERE TODAY, GONE TOMORROW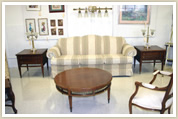 Make sure to drop by fast – for heavy furniture, you'd be surprised how fast they fly off of the floor! People are always coming in to buy items before we can even price them, so don't be tardy!