THANK YOU
FOR YOUR LOYAL SUPPORT THROUGH THESE DIFFICULT TIMES
WE ARE OPEN FOR IN-STORE SHOPPING!!
Monday – Friday 10:00 am to 5:00 pm
Saturday 11:00 am to 3:00 pm



Videos Updated – New June 11, 2020 'Furniture, Decor and More' Feature Videos Click Here
FAIR PRICING

Pricing is based on the fact that we sell used items. The basis for our pricing is what something similar would sell for new.
RISK-FREE BUYING!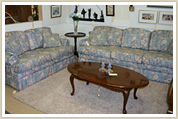 Not sure of colour, size or style and need to know before you buy? Use our free, no-obligation 24-hour trial option!
HERE TODAY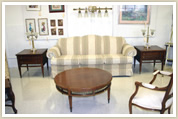 GONE TOMORROW
You need to come into our store today, because what is here today might be gone tomorrow!
K-W's ONLY 100% FURNITURE AND DÉCOR CONSIGNMENT STORE!
Does every piece of furniture start to look the same as you go from store to store? Do they all have shockingly high prices and questionable quality? Décor items that are simply ho-hum? Have your searches included good quality used furniture or high-end gently used furniture and when you find it, it's anything but good quality or gently used furniture? You're not alone!
"Welcome to our site! This is Margery Smith and Rita Wagner from "Bits & Pieces – Furniture & Décor Consignment. For over 35 years, we have been in the furniture business and it is upsetting to us when we hear people are getting ripped off! Our passion has been furniture refinishing and restoration, but we realized over time the real need for a high quality consignment store where people like you could finally find gently used, high-end quality furniture and home décor!"
Quality at Reasonable Prices
Bits & Pieces Furniture & Décor specializes in the resale of gently used high quality furniture and décor items to accessorize the look you are trying to achieve! Whether you are looking for something special for your home, or you are furnishing that cottage by the lake, we have the finest pieces and most affordable way to help you achieve success! At incredible prices!
As you enter the Bits & Pieces Furniture & Décor location on Gage Street, in Kitchener, you will be astonished at the high end approach taken to merchandise the items on the floor! Why? Bits and Pieces only accept the best quality in used furniture and décor for consignment. With a strict criteria policy in place for the make, model and condition of items, you will find yourself gazing upon some very high end furniture in a wide variety of styles and designs. There is literally, something for everyone!!
Brand Name Furniture of Real Wood Construction
Our large selection of furniture is one of brand names and current trends. We also carry beautiful and unique "one of a kind" pieces from the past that you won't find in traditional retail stores. When you make your purchase from "Bits & Pieces" you will own pieces that are irreplaceable. Because of our specialized intake of quality consignment items, chances are you won't find it elsewhere. Every day there is something new to consider and things are never boring at the store!
Original 'Retro' Pieces
Furniture design today is being fashioned from days gone by, reflecting lines and fabrics of a "retro" era. Sadly, the new reproductions don't reflect the same quality of craftsmanship as the furniture actually manufactured during that time period. Not to mention, the cost for a "reproduction" is somewhat "pricey" in comparison to an actual authentic piece.
It's so much more interesting to own an original 'retro' piece, and you won't find better pricing anywhere else than at "Bits & Pieces." Because Bits & Pieces is not limited by name brand representation, or tied to a specific market group, it can offer a wide variety of items to suit a wide variety of tastes! From traditional to retro and even contemporary, we carry it all!
Quality Wall Art
Literally hundreds of pieces of artwork grace the walls of our store every month! At "Bits & Pieces" we are astounded at the beautiful pieces that pass through our doors and we are delighted knowing that the pieces people choose will find a gallery home to enhance and preserve their uniqueness. Quality wall art and décor can transform the atmosphere of any room in your home!
Décor
Sometimes that one perfect accent piece can be the "piece de resistance" that ties your whole room together! At Bits & Pieces Furniture & Décor we carry a great assortment of accessory décor items just for that purpose!
For example:
Lamps – table top, floor lamps, globe lamps, desk lamps and oil lamps!
Vases – pinwheel crystal, Wm. Hughes cornflower, Satsuma, Mikasa and many others!
Artwork – Casson, Thomson, Carr, Carmichael, Alicia Sauve and Andrew Collet to name a few!